Have You Outgrown Geek Squad?
I recently had to dig into my law firm's technology center—and it was a messy undertaking! If your company is like most, your tech "hub" is contained within dust-covered boxes with flashing lights, tucked away under an unused desk or on some slightly out-of-level shelves.  You may not even notice that the lights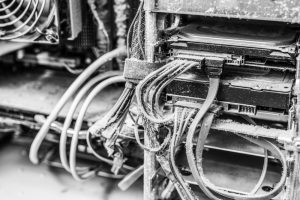 on some of those boxes no longer flash, unless the stuff inside was supposed to make the other dust-covered boxes work.
To be competitive in today's economy, most companies need technology at every level.  But how, without dedicating countless hours and an equal number of doses of (insert your pain-reliever of choice here), does today's business leader keep up with the technology that's right for your business or even have confidence that you and your team are applying technology well?
There are countless websites and consultants offering help with finding the right software, equipment, or application, and promising to make your life a dream.  I asked my friend Greg Sparks, owner of CIO Source, to share with me some ideas about how a business leader can sort through all the clutter.  Not surprisingly, Greg didn't immediately recommend calling Geek Squad!  But he didn't rule it out, either.
Greg spent the first part of his career evaluating, selecting, and applying technology at a Fortune 500 company.  Near the end of his tenure there, he and a friend performed a technology consulting project for a mid-market company.  Greg enjoyed dealing directly with the decision-makers of the business and was hooked.  He decided then and there to focus on providing technology assessment and evaluation services to mid-market businesses, and he formed CIO Source about a year later.
Greg recommends finding a vendor or consultant who can help you figure out what's appropriate for your business.  Most companies don't need latest and greatest equipment with the most bells and whistles, or the newest software or application on the market.  Greg's secret, which he's graciously allowed me to share with you, is to find a balance between an allocation of your resources and an efficient use of the technology.  The technology should be optimized for the business you're running today, but scalable for the business you're going to be running within the next year or two.
Wouldn't it be nice if all your technology worked together?  At one time, this was a dream only the biggest companies dared hope for.  But enterprise technology isn't just for the big kids anymore!  Many of Greg's clients have been surprised, and have experienced good results, from the application of enterprise technology that's now available to small and mid-market companies.  Even better, no first-born has been pledged in payment of the licensing and consulting fees to make this happen!
Smaller businesses might be surprised to find that there are enterprise solutions that benefit small firms and industry-specific solutions that might fit their needs.  Greg cautioned, however, that specialized offerings carry the risk, if the provider has too few clients, that there won't be as many updates or innovations as you might like.
In his engagements, Greg usually starts with an assessment of the client's business model and the processes and functions that would benefit from technology.  He evaluates the existing technology, whether it is QuickBooks or SalesForce, and usually finds a mess.  Not surprisingly, strategic and tactical planning at most companies doesn't include technology acquisition, so each department makes its own purchasing decisions without regard to the resources or needs of other departments.  This approach was suitable in the past, but in today's technology-driven and connected marketplace, this approach may leave you in a digitally-stored dustbin of history.
Most software available today doesn't reside on your dust-covered plastic box, even if the lights still flash.  The trend has been moving to cloud-based technology solutions for several years, which might mean that you'll need fewer dust-covered, disco-light enhanced boxes.  But that doesn't mean that you won't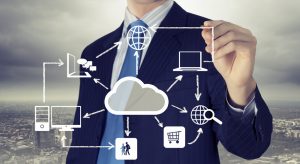 face the same technology optimization and integration problem.  Cloud-based applications will still need to be optimized for your needs and integrated with the rest of your technology solutions.
Greg and his team look at all your technology applications across all departments and make recommendations about what to keep, what to get rid of, and what to acquire.  They analyze places where there are gaps in your technology – and places where you have too much technology.  They offer recommendations about how you can integrate what's already in place and what you should consider adding.
The evaluation and recommendation process for a mid-market firm with 100 or so employees typically takes Greg's team 4 to 8 weeks to complete.  Greg's firm is very good at assessment, analysis, and selection – and if the implementation might need a specialist, Greg's good at finding them.  In some engagements, Greg has found that he could have probably saved his client millions if Greg could have spent only an hour discussing a technology decision with them a year earlier.
Greg emphasizes that technology is the strategic differentiator for most businesses and will continue to be for the foreseeable future.  If your business is like most of Greg's clients, leveraging technology to create value will be critical to setting you apart in the marketplace.  Since your business will be heavily impacted by technology, you should want your technology person to be business-savvy.  The technology person should be asking, "If it's not business-driven, then why do it?"
A Chief Information Officer ("CIO") takes a strategic view of how a business can use technology as a differentiator.  Most small and mid-level businesses rely on department heads and their support staff to fill the technology officer role, or they're not thinking strategically about technology at all.
Feeling too small or intimidated to get CIO-kind of help?  Greg's firm also offers "fractional CIO" services to help business leaders who might benefit from his services but don't have the need or the budget to dedicate a full-time resource to technology.
The best news of all?  Although Greg is fluent in "Geek speak," he will communicate his recommendations to you in plain English.  And that speaks volumes, regardless of language, about his value to business owners.